Pairings/Recipes
Seasonal Highlighted Recipe


Low and Slow Chili

It wouldn't be fall without something being pumpkin themed...and we've got you covered with this delicious Pumpkin Habanero. It's a fantastic medium sauce that will have you tasting fall from the very first bite!

Pumpkin is about as seasonal as it gets...although there are those out there that tend to crave pumpkin pie all year long, and we don't fault them at all...pumpkin pie is pretty delicious. Especially if you make it from scratch! To accompany the pumpkin in this sauce, we pair it up with other amazing fall seasonal flavors like sage, clove, and cinnamon. You're going to absolutely love it.


Here is a recipe for chili that also screams fall....and who doesn't like a nice bowl of chili as the weather begins to cool? We've already eaten it twice!
Chili recipe ingredients:

1 lb ground beef
1 lb ground pork
1 onion, diced
5 cloves of garlic, diced
3 tablespoons chili powder
2 tablespoons ground cumin
1 teaspoon sugar
1 28 oz can of diced tomatoes (not drained)
1 16 oz can of red kidney beans (drained) OPTIONAL
1/4 cup Pumpkin Habanero
Bay leaf
Salt to taste
Pepper to taste
1 tablespoon cooking oil


Directions:

-Brown beef and pork in pot, and drain before it's totally cooked to save some of the fat
-Meanwhile, sauté onion and garlic in cooking oil in small skillet and set aside
-Combine onion, garlic, and all other ingredients in pot with meat
-Bring to a boil while stirring to make sure all ingredients combine well

-Reduce to simmer for approximately 30 minutes, but up to three hours (the longer you let it cook, the more flavorful your chili will end up being)
-If you cook it for longer and it starts to dry, you can add some beef stock or water to help thin
-Once done, top it with more 
Pumpkin Habanero, 
avocado, cheese, and sour cream
-Try and taste it a little bit before you scarf it all down...because in the famous words of Cousin Eddie "It is goooooood"
Other Pumpkin Habanero pairings:
Pizza
Coffee (yup, pour it right in)
Spaghetti
Poblano Jalapeno
The Poblano Jalapeno may be the mildest sauce that we make at Tennessee Hot Sauce Co., but it's still packed full of flavor. Here is a recipe from The Food Lab at Serious Eats. In this recipe, include 1/2 cup of the sauce in the marinade and you will not regret it!!
Other Poblano Jalapeno pairings:

Tacos
Burritos
Enchiladas
Tortilla Chips
(Getting the idea yet?)
There are other foods of course, like eggs that are also a wonderful hot sauce vessel
Pineapple Habanero
 
Pineapple Habanero is the newest sauce in the standard lineup. It was introduced after it was such a successful seasonal flavor. It combines the wonderful medium heat of habanero peppers with charred pineapple and cinnamon to give it such a beautiful balance of flavor, body, and heat. The biggest game changer with the Pineapple Habanero sauce was in chicken and waffles. Here is an amazing recipe of chicken and waffles. To modify it, we include about 1/3 of a bottle of Pineapple Habanero hot sauce with the buttermilk marinade and allow it to sit overnight and up to 24 hours, and also use it as a topping afterwards:

Other Pineapple Habanero pairings:

Pizza! (This is Amy's favorite pizza sauce, she would eat the whole bottle if you let her)
Tacos, particularly seafood like fish or shrimp
Grilled meats (it makes an excellent basting sauce while you're cooking)

Garlic Habanero
The Garlic Habanero is packed with garlic (it better be if you're going to name the sauce after it...), and pairs perfectly well with the slight sweetness of the carrots and the habanero peppers. A wonderful recipe that we've found to use the garlic habanero is a creamy mushroom risotto. It's packed with flavor and the garlic and the heat are the perfect compliment
Pressure Cooker Mushroom Risotto
 
Other Garlic Habanero Pairings:

EVERYTHING!
But other than everything:
Pasta dishes
Pizza
Eggs
Honey Habanero
Honey Habanero is sweet and spicy, just like you! As such, it's good to pair with some sweet and savory dishes. A perfect example of this is chicken wings. You get some sweetness, and then BAM, there's the habanero heat that we all know and love.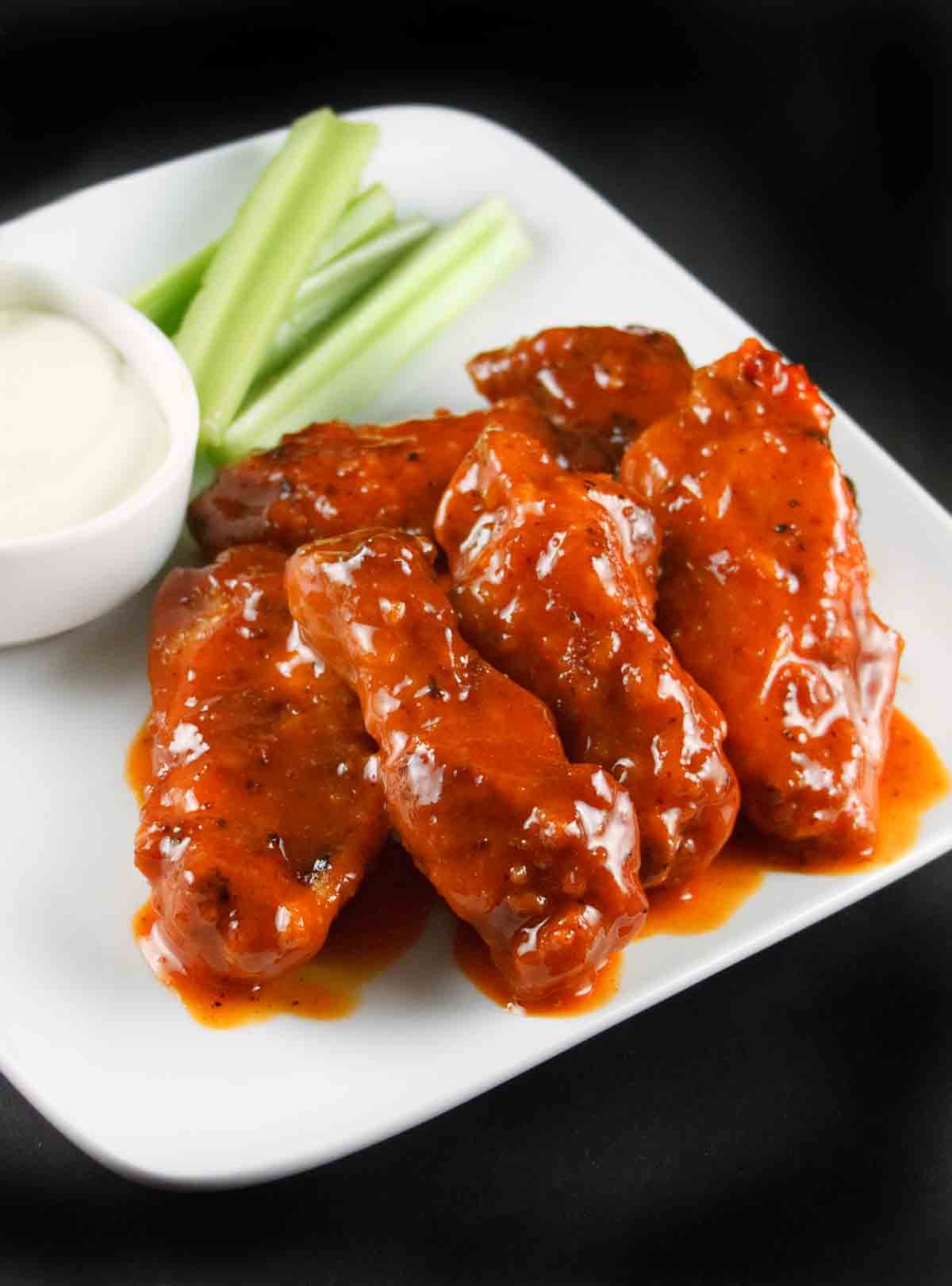 Other Honey Habanero Pairings:
Grilled chicken
Fish dishes
Curries
Fish or shrimp tacos
Stir Fry
Blood Orange Ghost
 
Blood Orange Ghost is the meatiest sauce in the normal lineup, and as such we tend to pair it up with heavier dishes. One of which is beef stew. Below is a very good, very flavorful beef stew that the Blood Orange goes with perfectly.
Other Blood Orange Ghost Pairings:
Pork loin
Gumbo (yum!)
Pulled pork sandwiches
Chili