Pairings/Recipes
Seasonal Highlighted Recipe


Spicy Margarita

We originally made the Margarita Jalapeno sauce for the Taco and Margarita festival in Nashville, TN. The event was ok overall, but the Margarita sauce really took off. We sold all of the bottles we had made in about an hour. People were putting it on tacos and in their drinks, it was a big success. It was that type of response that led us to want to make it as one of the surprise seasonal sauces for our subscribers.
It's an extremely easy to eat sauce that has the markings of a Margarita. It's got the salt, it's got the lime juice, it's got the signature green color. We put this sauce on many different things including grilled chicken, salads, and especially shrimp and fish tacos. That being said, this sauce was specifically made to add just the right level of heat and love to your Margaritas.

Without further ado, the Spicy Margarita:
Spicy Margarita recipe:

2 oz. tequila
1 oz. lime juice
1 oz. triple sec
.75 oz. agave nectar
.75 oz. Margarita Jalapeno
sliced jalapeno
kosher salt for rim
lime for garnish

Margarita Jalapeno hot sauce (to your preference)
Step 1: Salt the rim
Step 2: Slice the jalapeno peppers
Step 3: Pour and combine all liquids into glass
Step 4: Mix together
Step 5: Add ice to your desired preference
Step 6: Make sure you've got plenty of ingredients because you will definitely be having more than one!
Other Margarita Jalapeno pairings:
Salads (think about it like a vinaigrette)
Enchilada Sauce (mix with either the green or red enchilada sauce)
Tostadas
Breakfast sandwiches (anything with bacon and eggs)
Poblano Jalapeno
The Poblano Jalapeno may be the mildest sauce that we make at Tennessee Hot Sauce Co., but it's still packed full of flavor. Here is a recipe from The Food Lab at Serious Eats. In this recipe, include 1/2 cup of the sauce in the marinade and you will not regret it!!
Other Poblano Jalapeno pairings:

Tacos
Burritos
Enchiladas
Tortilla Chips
(Getting the idea yet?)
There are other foods of course, like eggs that are also a wonderful hot sauce vessel
Pineapple Habanero
 
Pineapple Habanero is the newest sauce in the standard lineup. It was introduced after it was such a successful seasonal flavor. It combines the wonderful medium heat of habanero peppers with charred pineapple and cinnamon to give it such a beautiful balance of flavor, body, and heat. The biggest game changer with the Pineapple Habanero sauce was in chicken and waffles. Here is an amazing recipe of chicken and waffles. To modify it, we include about 1/3 of a bottle of Pineapple Habanero hot sauce with the buttermilk marinade and allow it to sit overnight and up to 24 hours, and also use it as a topping afterwards:

Other Pineapple Habanero pairings:

Pizza! (This is Amy's favorite pizza sauce, she would eat the whole bottle if you let her)
Tacos, particularly seafood like fish or shrimp
Grilled meats (it makes an excellent basting sauce while you're cooking)

Garlic Habanero
The Garlic Habanero is packed with garlic (it better be if you're going to name the sauce after it...), and pairs perfectly well with the slight sweetness of the carrots and the habanero peppers. A wonderful recipe that we've found to use the garlic habanero is a creamy mushroom risotto. It's packed with flavor and the garlic and the heat are the perfect compliment
Pressure Cooker Mushroom Risotto
 
Other Garlic Habanero Pairings:

EVERYTHING!
But other than everything:
Pasta dishes
Pizza
Eggs
Honey Habanero
Honey Habanero is sweet and spicy, just like you! As such, it's good to pair with some sweet and savory dishes. A perfect example of this is chicken wings. You get some sweetness, and then BAM, there's the habanero heat that we all know and love.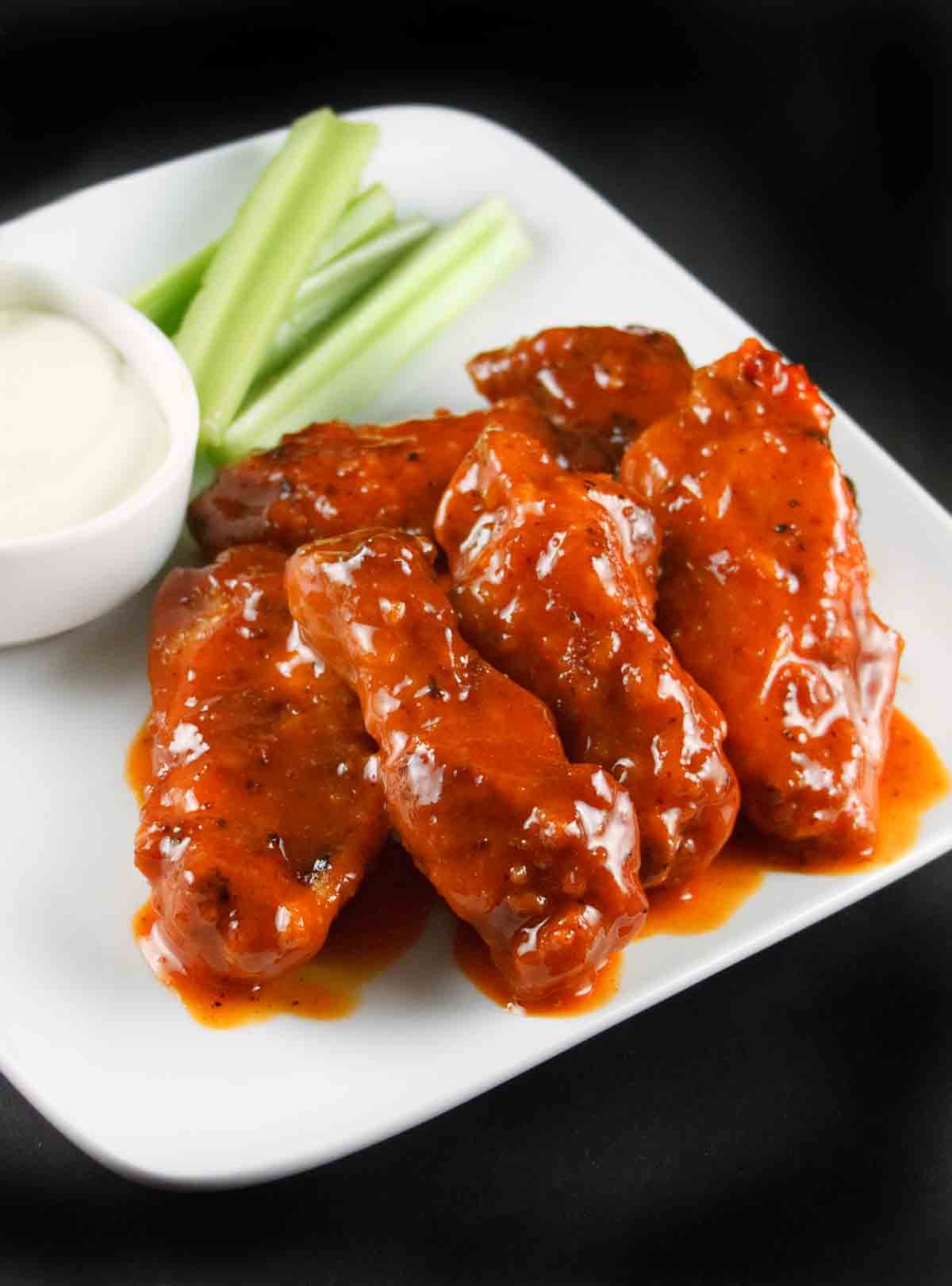 Other Honey Habanero Pairings:
Grilled chicken
Fish dishes
Curries
Fish or shrimp tacos
Stir Fry
Blood Orange Ghost
 
Blood Orange Ghost is the meatiest sauce in the normal lineup, and as such we tend to pair it up with heavier dishes. One of which is beef stew. Below is a very good, very flavorful beef stew that the Blood Orange goes with perfectly.
Other Blood Orange Ghost Pairings:
Pork loin
Gumbo (yum!)
Pulled pork sandwiches
Chili