Pairings/Recipes
Seasonal Highlighted Recipe


Smoked Ghost Sweet Potato Pulled Pork

The Sweet Potato Ghost is the current seasonal sauce, and has a wonderful balance of heat, flavor, and smokiness. Perfect for all of your grilling and smoking needs for the fall. It uses the ghost pepper, which is going to have a bit more heat than the habanero, which we used last quarter, and they were smoked to help give a different dimension and depth. We also charred some of the sweet potatoes to give that extra chariness that just takes the sweet potato to the next level.

This recipe actually uses the oven to cook the pork because, similar to a slow cooker, it allows the meat to cook in the juices, but the difference is that by cooking it in the oven instead of a slow cooker it will allow you to get the crispy bark on top...which is just awesome and something we always appreciate in pulled pork.

A smoker is also absolutely recommended to cook pulled pork on, so if you prefer to do it that way, then enjoy...because a well smoked pork butt is just amazing.

Additional Ingredients:
5 lb pork butt (excess fat can be trimmed)
1 to 1.5 cup favorite bbq sauce
1/2 cup Sweet Potato Ghost hot sauce
1 chopped onion
1 tbsp of oil or fat (we prefer bacon fat)
1 cup chicken stock

For the rub:
4 tbsp brown sugar
1 tbsp paprika
1 tbsp kosher salt
1 tsp black pepper
1 tsp cumin
1 tsp garlic powder
1 tsp chili powder

Directions for Pulled Pork:
1. Preheat oven to 300 degrees
2. Pat the pork butt dry and press in approximately 1/2 of your rub all over the pork butt. You can let pork sit out and get closer to room temp (30 min - 1 hour)
3. Heat oil or fat in pot over medium-high heat and place pork in oil to help get a good sear on all sides
4. Pour onions into pot and allow them to brown
5. Pour chicken stock into pot and scrape up bits and pieces on the bottom
6. Turn pork fat side up, mix your bbq sauce with your Sweet Potato Ghost hot sauce and pour half on top of pork
7. Cover pot with lid and place in oven
8. Allow pork to cook until it's just starting to get tender, approximately four hours
9. Remove the lid and allow pork to cook for another approximately one hour, until meat is tender. You should have a beautiful bark at this point
10. Take pork out of pot and shred with forks while leaving the juices in the pot
11. Combine remaining bbq and Sweet Potato Ghost mixture to the juices in the pot
12. Put the pork back into the pot and stir it all together
13. Add more sauce, salt, pepper, until you reach your desired taste
14. Stop drooling and smelling it and eat it all!
Other pairings for Sweet Potato Ghost:
Chicken wings (if you don't make chicken wings with this sauce, you're crazy!)
Any grilled or smoked meats
Pizza (pizza is such a great vessel for hot sauce)
Any kind of bbq item (baked beans, cornbread, etc)

Poblano Jalapeno
The Poblano Jalapeno may be the mildest sauce that we make at Tennessee Hot Sauce Co., but it's still packed full of flavor. Here is a recipe from The Food Lab at Serious Eats. In this recipe, include 1/2 cup of the sauce in the marinade and you will not regret it!!
Other Poblano Jalapeno pairings:

Tacos
Burritos
Enchiladas
Tortilla Chips
(Getting the idea yet?)
There are other foods of course, like eggs that are also a wonderful hot sauce vessel
Ginger Jalapeno
Ginger Jalapeno combines jalapeno and fresno chilis to add some spice, and combined with fresh basil and ginger to give it the perfect balance of a milder, full flavored hot sauce. If you're feeling adventurous and wanting to have the most amazing gyoza with the perfect dipping sauce (Ginger Jalapeno of course), here is an amazing recipe that pairs wonderfully with the sauce:
https://www.seriouseats.com/the-best-japanese-pork-and-cabbage-dumplings-gyoza-recipe
Other Ginger Jalapeno pairings:


Rice dishes
Any noodle dish
Egg rolls
Pot Stickers
Especially soup dishes such as pho or ramen
Garlic Habanero

The Garlic Habanero is packed with garlic (it better be if you're going to name the sauce after it...), and pairs perfectly well with the slight sweetness of the carrots and the habanero peppers. A wonderful recipe that we've found to use the garlic habanero is a creamy mushroom risotto. It's packed with flavor and the garlic and the heat are the perfect compliment
https://www.seriouseats.com/pressure-cooker-mushroom-risotto-recipe
Other Garlic Habanero Pairings:

EVERYTHING!
But other than everything:
Pasta dishes
Pizza
Eggs
Honey Habanero
Honey Habanero is sweet and spicy, just like you! As such, it's good to pair with some sweet and savory dishes. A perfect example of this is chicken wings. You get some sweetness, and then BAM, there's the habanero heat that we all know and love.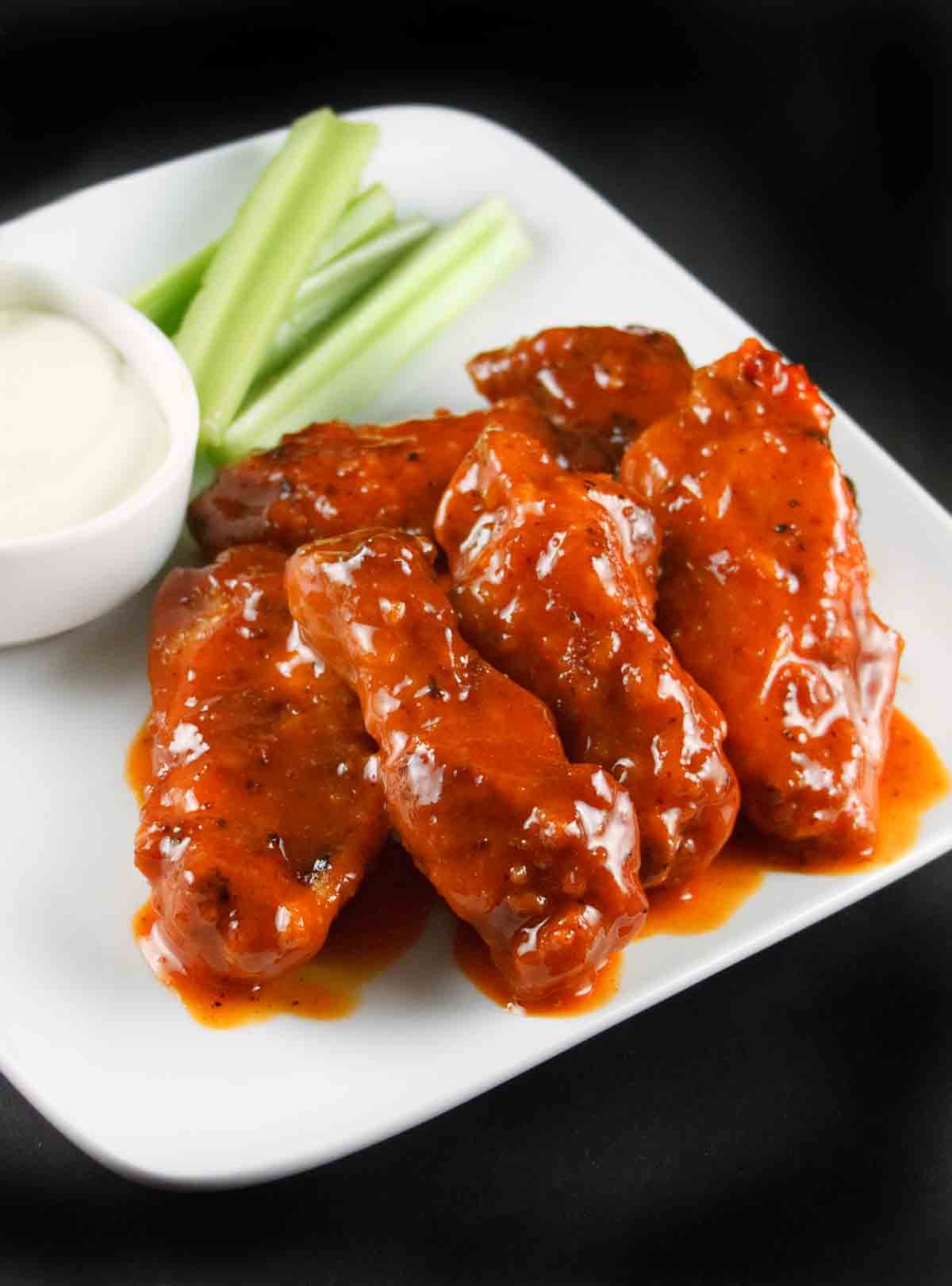 Other Honey Habanero Pairings:
Grilled chicken
Fish dishes
Curries
Fish or shrimp tacos
Stir Fry
Blood Orange Ghost
Blood Orange Ghost is the meatiest sauce in the normal lineup, and as such we tend to pair it up with heavier dishes. One of which is beef stew. Below is a very good, very flavorful beef stew that the Blood Orange goes with perfectly.
Other Blood Orange Ghost Pairings:
Pork loin
Gumbo (yum!)
Pulled pork sandwiches
Chili